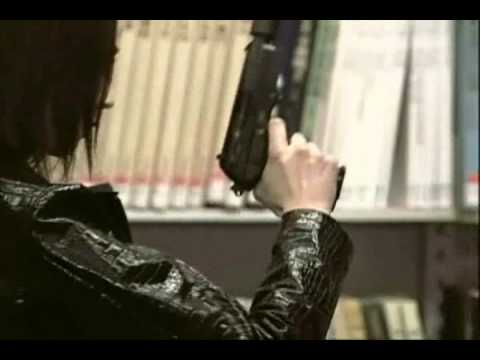 Quickgirl is an intriquing film noir segment from the Japanese Vermilion Pleasure Night バミリオン・プレジャー・ナイト TV show.  Quickgirl  involves 4 sexy Japanese female assassins who each have a contract to kill one another.  During the skit not a single word of dialogue is spoken and instead of dialogue you hear an ambient/techno like soundtrack that changes themes according to the situation and which ever assassin happens to be on screen at the time.  The four assassins are:
Mary: The main character. A woman donning all black leather and sports a big hat. Her special skill is sniping. Mary spends the majority of her time chilling at a fine restaurant and waiting for the precise moment to strike.
Lina: The other main character. Her special skill is that she is highly trained with blades.
She wears all white and is cunningly cold & vicious. Not only is she deadly with a knife, Lina also possesses the ability to scan an area in search of any invisible threat who could do potential harm to her.
Reiko:  She wears a green leather jacket.  She is the tactician of the four rivals. She is the least eccentric of the Quick girls. Reiko gets the least screen time.
Erika: The oddball of the four female assassins.  She wears skintight clothing and is by far the cutest of the four hit women. Erika likes to lick ice cream cones and has a really sweet ride.
She seems a bit aloof but she uses that to her advantage.
See which assassin wins…
Similar Posts: