Photo of the day: Vending Machines for Omikuji (fortune paper) in Kinkaku-ji Temple, Kyoto.
For Japanese, Omikuji 御御籤, 御神籤, or おみくじ are random fortunes written on strips of paper at Shinto shrines and Buddhist temples which literally mean "sacred lottery".
Omikuji are usually received by making a small monetary offering and randomly choosing one from a box or  given from a coin-slot machine. The omikuji is scrolled up or folded, and unrolling the piece of paper reveals the fortune written on it. It includes a general blessing which can be any one of the following:
* Great blessing (dai-kichi, 大吉)
* Middle blessing (chū-kichi, 中吉)
* Small blessing (shō-kichi, 小吉)
* Blessing (kichi, 吉)
* Half-blessing (han-kichi, 半吉)
* Near-blessing (sue-kichi, 末吉)
* Near-small-blessing (sue-shō-kichi, 末小吉)
* Curse (kyō, 凶)
* Small curse (shō-kyō, 小凶)
* Half-curse (han-kyō, 半凶)
* Near-curse (sue-kyō, 末凶)
* Great curse (dai-kyō, 大凶)
It then lists fortunes regarding specific aspects of one's life, which may include any number of the following:
* 願事 (negaigoto) – one's wish or desire
* 待人 (machibito) – a person being waited for
* 失せ物 (usemono) – lost article(s)
* 旅立ち (tabitachi) – travel
* 商い (akinai) – business dealings
* 學問 (gakumon) – studies or learning
* 相場 (souba) – market speculation
* 爭事 (arasoigoto) – disputes
* 戀愛 (renai) – romantic relationships
* 転居 (tenkyo) – moving or changing residence
* 出產 (shussan) – childbirth or pregnancy
* 病気 (byōki) – illness
* 縁談 (endan) – marriage proposal or engagement
Like fortune telling in other parts of the world, omikuji predicts matters of health, fortune, love and life. When the prediction is bad, it is a custom to fold up the strip of paper and attach it to a pine tree or a wall of metal wires alongside other bad fortunes in the temple or shrine grounds.
A purported reason for this custom is a pun on the word for pine tree (松 matsu) and the verb 'to wait' (待つ matsu), the idea being that the bad luck will wait by the tree rather than attach itself to the bearer. In the event of the fortune being good, the bearer has the option of tying it for the fortune to have a greater effect or can keep it for luck. Though nowadays this custom seems more of a children's amusement, omikuji are available at most shrines, and remain one of the traditional activities related to shrine-going, if lesser.
Let's hope 2010 is a good year for all of us!
Omikuji videos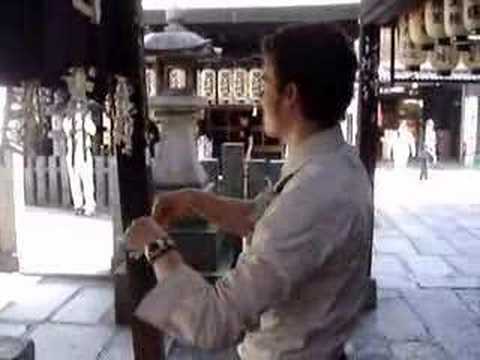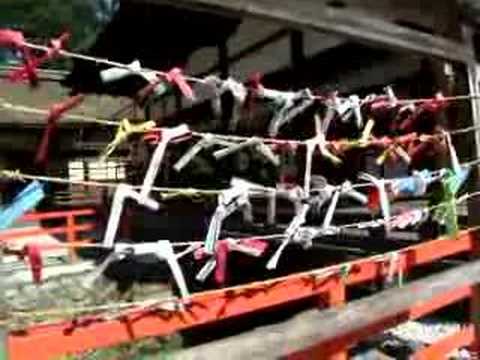 pick from a box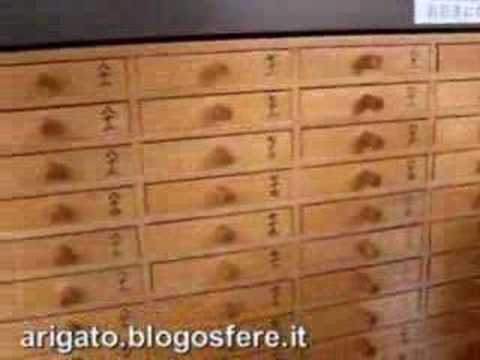 Similar Posts: