Japanese rubber and plastics manufacturing company Okamoto is one the leading manufacturers of condoms in the world. The Crown brand and Beyond Seven brand condoms merchandised in the U.S. are products of Okamoto.
Last year Okamoto introduced new brands Mega Big Boy, Super Big Boy and Smart Boy condoms.  In fact,  to answer the growing demand for bigger condoms due to the improvement in male physique, the Mega Big Boy (Elephant packaging!) condom is one the the biggest and fattest condoms in the world with a diameter is 46mm (1.81 inch) at a price of 2100yen (about US$23) for 12 pack.
Okamoto's Super Big Boy (Horse packaging) condom is 37 mm (about 1.5 inch) in diameter while the Smart Boy condom (Eagle packaging) which will fit snugly for most guys has diameter is 31mm(about 1.2 inch).
Not to be outdone, Okamoto rival,  Sagami Rubber Industries, the first condom manufacturer in Japan  introduced a luxury brand of condom "Sagami Original 0.02 Premium" which is the thinnest and most expensive condom in the world. The high-end condoms "Sagami Original 0.02 Premium" are a new addition to the popular "Sagami Original 0.02″ brand polyurethane condoms, which achieved toughness (three times higher bursting pressure and two times higher tensile strength than normal latex condoms) and thinness (world's thinnest 0.02mm) at the same time.
The premium condoms come in black and gold packages with a the price of 2100 yen (US$23) for a 4pcs box.
Okamoto Condom TV commercial


Japanese AV star Mihiro demonstrates the no touch condom for Okamoto's  School of Condoms 2008 show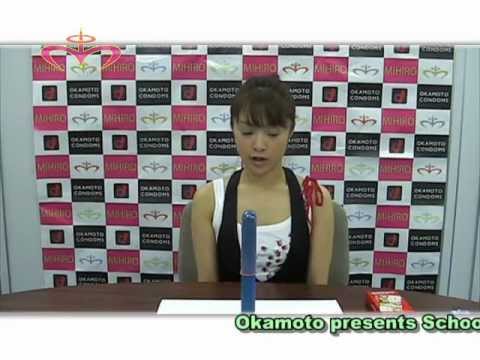 Similar Posts: