Here is the correct way to pour canned or bottled beer into a glass.  First you pour straight towards the bottom of the chilled glass creating a foamy head and then pour the rest down the side at a slight angle and then straighten up to finish.    Seems simple right? But for many people including many Japanese women who prefer wine, pouring that beer with just the right amount of head might be a tough task.
Luckily for us,  if your Japanese girlfriend is not so skilled,  you can buy her this nifty little contraption from Takara Tomy called Beer Hour, ビールアワー which is a smart "beer server".
Introduced at the recent Tokyo International Gift Show 2011  Spring 第71回東京インターナショナル・ギフト・ショー春2011, the beer server generated instant buzz.   You simply attach the device to a standard sized can of  beer  (both 350 or 500ml cans) and pour the beer into the glass as normal.  The device has a small motor (powered by an AAA battery)  which when turned on  creates a froth that makes the foamy head that you require.
Tamara Tomy even have a cute TV commercial which show typical Japanese salary men at a bar asking for "nama beeru" (draft beer) while a sexy Japanese office lady (former Japanese gravure idol Azusa Takagi 高木梓)  asks for a canned beer which produces just the right amount of head.  Check it out in the video section below.
The handy device comes in 2 colors (black and yellow)  is available for about 2,000 yen on Rakuten, Amazon Japan and other Japanese online stores.
Takara Tomy Beer Hour  Beer Server videos
Takara Tomy Beer Hour TV commercial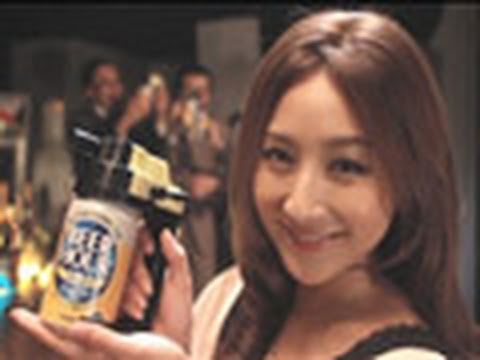 Digi Info news on introduction of the device at the Tokyo International Gift Show 2011 Spring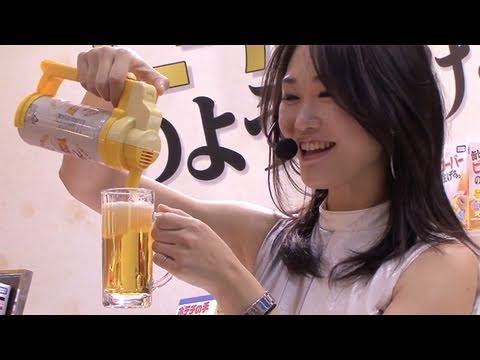 Takara Tomy Beer Hour featured on Japanese TV news segment

Similar Posts: