Luscious Japanese beauty Nao Nanao 七生奈央 started her career as a sexy Japanese race queen in 2001.  The Yamagata born beauty with measurements 82 – 56 – 82 cm was a RQ for Raybrig, Denso, TEAM GAIKOKUYA and FK Massimo between 2001-2003.
She became very popular and was chosen to be part of the sexy TV idol group Miniskirt Police (9th generation).  During 2004-2007 she became a chakuero erotic idol for her sexy posing and lingerie.
Nao has also released 8 gravure DVDs and 4 photobooks. She also formed an idol unit 7000 (ナオナオ) with another sexy Japanese RQ Chiaki Yoshida 吉田千晃 and the unit released 4 DVDs.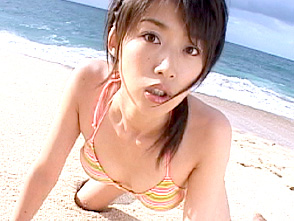 Nao Nanao videos (NSFW)
white lingerie
http://www.dailymotion.com/videox75jef
pink lingerie 1
http://www.dailymotion.com/videox75vta
pink lingerie 2
http://www.dailymotion.com/videox75o4p
by the lockers
http://www.dailymotion.com/videox75w9p
blue thong
http://www.dailymotion.com/videox75wuw
sexy dancer
http://www.dailymotion.com/videox75kbn
outdoors
http://www.dailymotion.com/videox75nrd
bath
http://www.dailymotion.com/videox75l2z
black lingerie

7000 with Chiaki Yoshida

Similar Posts: