Mieko Arai 荒井美恵子 is a now retired Jpop singer, gravure idol and  AV idol.   The 165cm tall Tokyo born beauty with measurements B83 W58 H88 debuted in 1989 as a gravure idol.
In 1991 joined up as part of the singing idol group The Giri Giri Girls ギリギリガールズ with Rika Harada, Mika Yoshino, Asako Tatsuki and Rumi Mochizuki.   The five member Giri Giri Girls were a staple of late-night TV for several years from 1992-1995. They released 3 photo books and 5 albums and even won a Best Newcomer award in 1993.   Mieko left the group in 1994 and continued with her gravure modeling.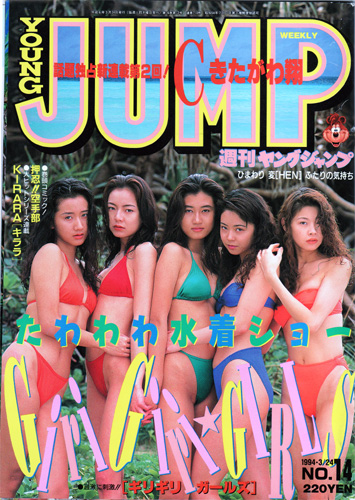 From 1991 to 2008 she released 8 Image videos and 9 photo books.
In 2005, at age 33 she released a nude photo book GODDESS and in 2006, she entered the AV world producing 2 videos for SOD.  She also appeared in the movie Flower and Snake 2 that year.
Mieko retired from show biz world  in 2007.
Mieko Arai Videos
younger Mieko Arai
http://www.dailymotion.com/videoxcsvs2
interview with Mieko about entering the AV world
http://www.dailymotion.com/videoxtrgu
Mieko Arai sexy
http://www.dailymotion.com/videoxgbunu
Similar Posts: