Following our posting of the Fukushima reactor crisis anime, we found this mid 1990s gem.  The now defunct Japanese  government research organization Power Reactor and Nuclear Fuel Development Corporation (PNC) 動力炉・核燃料開発事業団  (later reorganized into the Japan Atomic Energy Agency ( JAEA) 日本原子力研究開発機構, )  created an anime propaganda starring Little Mr. Pluto (or Pluto-kun プルトくん)  who wears a green helmet with a pair of antennae and the chemical symbol for plutonium, Pu.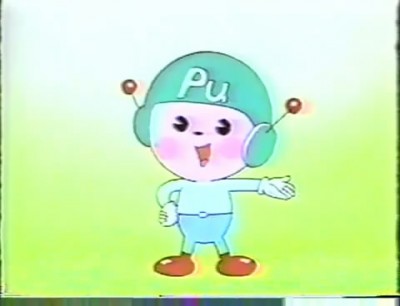 In the propaganda, promising to "never be scary or dangerous," Little Pluto-kun extolled the benefits of plutonium which the Japanese  government viewed as a fuel of the future for fast breeder reactor technology.
In the video Pluto-kun tries to convince younger Japanese that Plutonium is not so dangerous and debunks various fears about Plutonium, such as:
1. If bad guys dropped Plutonium into the ocean, it actually won't dissolve into the water well and will just fall to the bottom.
2. If you drink Plutonium mixed with water, you'll still be mostly fine since it will exit your body quickly.
As anyone familiar with the substance knows, Plutonium is, in fact, extremely dangerous, life threatening when consumed, and can be used to make nuclear weapons. The image character received harsh criticisms from international press and the video was quickly withdrawn.
Similar Posts: