Toy banks are a fun way for kids to learn about money and in particular saving money.  In Japan, the Itazura Bank is a fun example of a coin bank toy. In Japanese 'itazura' means to play a trick on someone. The  120 x 115 x 100mm (4.7 x 4.5 x 3.9″) box  looks like an ordinary fruit box but place your yen coins on the appropriately fish-themed button and soon the box will open and a cute cat (or dog)  appears and with it's paw takes your money!
The toy coin bank comes in one of 8 variations of pet so you will be spoiled for choice – (calico cat, tabby (brown), tabby (ginger), bulldog (white), bulldog (brown), American shorthair, Chihuahua (cream) and Chihuahua (Choco)
Two AA batteries are not included.  Come to think about it, might be a nice gift for your cute Japanese girlfriend to encourage her save money instead of spending it on Hello Kitty!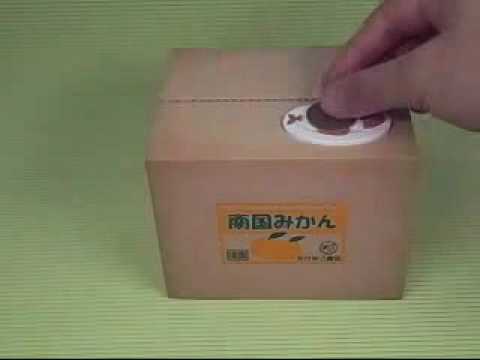 Similar Posts: