Eri Furuse 古瀬 絵理 is a busty 33 year old gravure idol and TV announcer from Yamagata, Japan.   The 157cm tall G Cup babe with measurements B95 W60 H89 graduated from Tamagawa University and joined national broadcaster NHK in 2000.  She later worked for NTV, Wowow and KTV.
Back in 2004 Eri Furuse, whose 95 centimeter bust earned her the nickname "suikappu" (an allusion to her "suika" or water melon-sized bust) competed in ratings with another TV announcer and gravure idol Waka Inoue who was on Fuji TV's "Waratte Iitomo."
Besides her magazine appearances, Eri is probably known for her TV travel series 古瀬絵理の美酒と温泉 (the Tabi (Travel) channel) for her tours of onsen (hot springs) all over Japan.
In her spare time, Eri likes golf, skiing, snowboarding and of course going to the onsen!  You can read more about Eri at her blog here.
Morning TV
http://www.dailymotion.com/videox4diha
Doing Yoga
http://www.dailymotion.com/videoxtrps
On TV show DownTown
http://www.dailymotion.com/videoxegggc
On variety show
http://www.dailymotion.com/videox6hi0m
Okinawa gravure photo shoot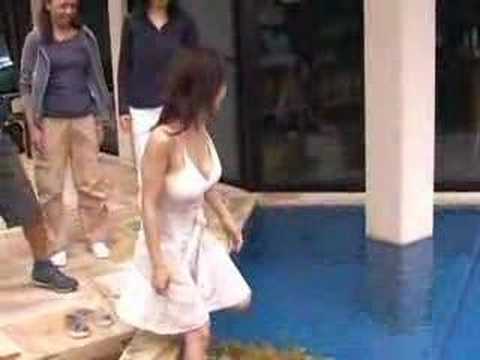 Enjoying onsen
http://www.dailymotion.com/videox8z8u1 http://www.dailymotion.com/videox9omy9

Similar Posts: