The popular Enoshima Electric Railway also known as Enoden 江の電, has over 100 years of history.  The train line links the central Shonan area, Kamakura and Fujisawa, a short distance of approximately 10 kilometers.
The Enoden runs among the residential areas, literary 1.5-2 feet away from houses. When it reaches Shichiri gahama in Shonan area, you see the Pacific Ocean right below your nose through the train window. Along the scenic route you can enjoy the changing scenery of mountains, beaches, tunnels and changing into a streetcar. The ancient city of Kamakura at one end of the line is a city with 800 years of history with famous Buddhist temples and Shinto shrines such as Kamakura's Great Buddha, Hase Kannon temple, Tsurugaoka Hachiman-gu shrine and Zeniarai Benten. You can also find art museums and popular spots along the historical streets.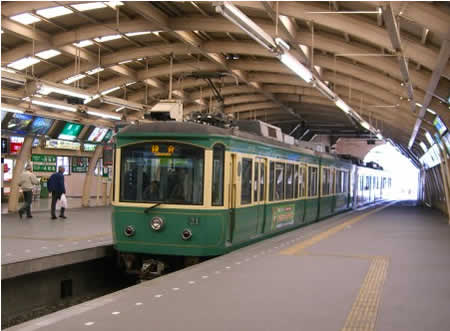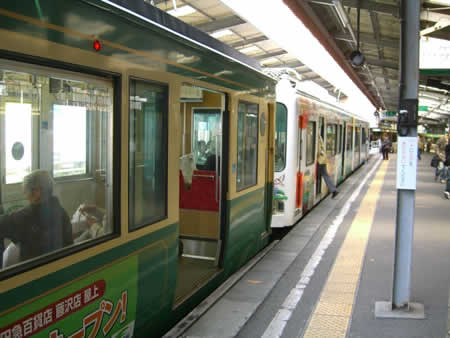 Enoshima Island  is famous as a seaside resort is a symbol of the Shonan area. The Enoshima Lighthouse Observation Tower located at the highest point of the island offers a 360 degree panoramic view that includes a view of Mt. Fuji, Oshima Island or the distant Landmark Tower in Yokohama.
Enoden marked its centenary in September 2002.  The line has both nostalgic old-fashioned "retro"  wooden floored train cars and modern, contemporary-style trains.  For direct access from Tokyo (Shinjuku) to Fujisawa, use the Odakyu "Romancecar".
Enoden train ride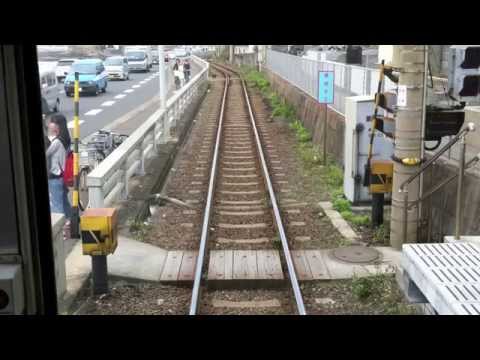 Similar Posts: