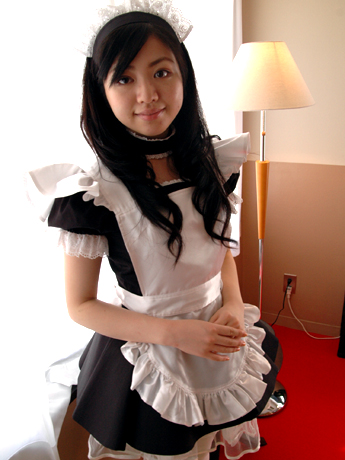 We've previously featured Candy Fruits, a well known Japanese maid costume and cosplay brand.  Capitalizing on their popularity, the company has opened up its first maid themed establishment in Akihabara last August called "Refresh Club キャンディフルーツ リフレッシュクラブ where stressed out salarymen or otaku can relax enjoying the company of a maid.
The stores concept is that of providing the customer with a chance to relax the body and mind, something known as "Iyashikei" in Japan.  Customers can do a variety of activities including watching DVDs, doing yoga, reflexology, having their ears cleaned or even playing Wii Fit – all with their specially trained maids of choice.
The club has 4 70sq meter booths set up for customers. It is open to the public from 12 to 9 pm and costs include a one time incentives cost of 1,500 yen and 1,000 yen annual fee.  Visit costs are 30 minutes for 2600 yen, 1 hour for 4600 yen, extending 30 minutes is another 2600 yen, nomination fees to select your maid for 30 minutes is 500 yen.
Directions: From JR Akihabara Station, Suehiro-cho, Chuo street to the station to go straight, cross at the signal, go straight to the left to the Hasegawa Building.
Read more at the CandyFruits Refresh Club blog here.
source: Akibamap
Similar Posts: