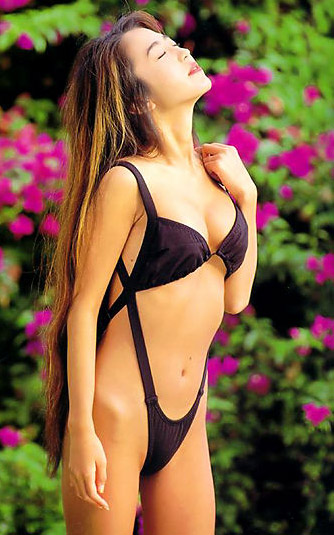 Ai Iijima 饭岛爱 is a 34 year old media personality and former AV star. Her real name is Mitsuko Ishii and in her late teens, she appeared on late night adult TV game shows as a "T-Back girl", one of the models wearing a skimpy thong. Her stage name was chosen by a fan survey.
She later entered into the Adult Video business and became a big star but quit by the age of 20. After this, she crossed over into mainstream television variety shows, one of the few "talent" so far to successfully make such a transition. She is now an established celebrity on Japanese television, appearing in travel, lifestyle, game shows, and quiz shows.
In 2001 she published Platonic Sex, a semi-autobiographical novel about a young girl leaving home to escape her parents and ending up as an adult movie star. The book was turned into a television series and a theatrical movie and is a bestseller in Japan.
You can view current photos of her here and older photos of her here and here.
Ai Iijima Videos
slide show 2

slide show 1

early video

showing t-back on game show
water game sexy policewoman
http://www.dailymotion.com/videox7tqqf

singing on TV show Super Jockey

wearing masks

Similar Posts: